#066: Apropos Of Absolutely Nothing At All
I'm Todd L. Burns, and welcome to Music Journalism Insider, a newsletter about music journalism. I highlight some of the best stuff I hear, read, and watch every week; publish news about the industry; and interview writers, scholars, and editors about their work. My goal is to share knowledge, celebrate great work, and expand the idea of what music journalism is—and where it happens. Questions, comments, concerns? You can reach me anytime at music.journalism.insider@gmail.com.
Today in the newsletter: Interviews with Uncut writer and Monocle radio broadcaster Andrew Mueller; Soviet music scholar Gabrielle Cornish; Katy Henriksen, the voice behind an interesting new podcast; and young Scottish music journalist Jamie Wilde. Plus! Gil! Scott! Heron! But first…
Nothing Like A Mother's Love
Reading List
Enjoy Instagram, TikTok, And YouTube?
Apropos of absolutely nothing at all... I'm looking to expand the coverage of the newsletter to music journalism and criticism happening on Instagram, TikTok, and YouTube. To start, I'm looking for someone to help me build a database of folks doing interesting things on those platforms. If you're interested in working on a research project to build that database, let me know by hitting reply to this email and 1) telling me why you know all the platforms worth knowing, and 2) why you'd be great for this project. As always, this is a paid opportunity.
Q&A: Andrew Mueller
Andrew Mueller is an Australian-born, London-based rock critic, travel writer, foreign correspondent, columnist, pundit and author. He is a Contributing Editor at Monocle, and hosts the weekly radio show / podcast The Foreign Desk. These days, as a music critic, he mostly writes for Uncut, but once upon a time, he was the reviews editor at Melody Maker. (You can read more about that era in his book It's Too Late To Die Young Now.) In this excerpt from our interview, Andrew talks about how his approach differs when interviewing a musician vs. a Nobel Prize winner.
I've learnt by now that interviews are as much a crapshoot as any other social interaction—some people you'll get on well with, some you won't, most you'll be able to deal with professionally enough that everyone gets what they came for, etc. All you can do is make sure you've done your research, and be open to following wherever the conversation might lead.
I think the key thing with all of them—and indeed possibly with all human interactions—is confidence: believing (or at least projecting) that it's not completely ridiculous that you're even having this conversation with this person, never mind expecting your questions to be answered.
Like most things you do often enough, this becomes kind of muscle memory, and you can snap into it pretty easily. Though in the summer of 2019 at the Starmus festival in Zurich, I interviewed Charlie Duke, lunar module pilot on Apollo 16. It went pretty well, I think, but it was a genuine effort not to just blurt "You're CHARLIE GODDAMN DUKE. You've BEEN TO THE FUCKING MOON. And now we're just SITTING HERE HAVING A CHAT ABOUT STUFF, like that's a thing that would ever happen."
Read the full interview with Andrew.
A Cause Worth Supporting
This week's cause worth supporting comes from Claire Lobenfeld.
Los Angeles Community Action Network (LA-CAN) are organizers on Skid Row in Downtown Los Angeles. In their own words, they aim to "create an organization and organizing model that eradicate the race, class, gender barriers that are used to prevent communities from building true power [and] eliminate the multiple forms of violence used against and within [their] community to maintain status quo." There are 60,000 unhoused people in Los Angeles County, all facing abusive encampment sweeps and the demolition of their personal items, including medication. Donating to LA-CAN puts money into keeping the community, in dire need of services, organized so they can monitor mistreatment from the LAPD and Sanitation. Donate here.
Check out all of the causes highlighted by the folks I've interviewed.
There Are (Rightfully) Three More Tweets In This Thread, FYI
Q&A: Gabrielle Cornish
Gabrielle Cornish is Assistant Professor of Musicology at the University of Miami's Frost School of Music. Gabrielle's focus is on music and life in the Soviet Union, and her recent paper "Music and the Making of the Cosmonaut Everyman" looks at "the space race as a sonic phenomenon." In this excerpt from our interview, Gabrielle explains what led her to write the paper.
I've been kind of obsessed with space and astronomy since I was a little kid. I remember getting a telescope for Christmas one year after having watched the film October Sky (about rocketry and astronomy) and shivering outside in the Upstate New York winter every night for months trying to spot distant planets and solar systems. In my astronomy and physics courses as a teen, however, I found myself thinking beyond the equations and principles to instead try to figure out what it all meant for us here on earth.
I was fascinated by the utopian—and dystopian—potential that space represented. In retrospect, I realize that I was still thinking about the ins and outs of life on earth—but via an interstellar detour. During my time in Russia, my interests in the space race were reinvigorated, and I could see the cultural remnants of space exploration in songs, posters, sculptures, and museums across the country. So when I started thinking about Cold War music, I kept coming back to the space race and how it amplified all of these various strains (cultural, political, ideological, martial) of competition.
Read the full interview with Gabrielle.
Academic Stuff
Stuff You Gotta Watch
Stuff You Gotta Watch celebrates music journalism in video form. This week's column is by freelance writer Jesse Locke.
Gil Scott-Heron's Black Wax is part concert film, part stand-up comedy special, and part social protest speech. Originally released by director Robert Mugge in 1982 and now available on the artist-run streaming site Eternal, the politically charged full-length film drips with charisma and rings with wise truths from the musical poet.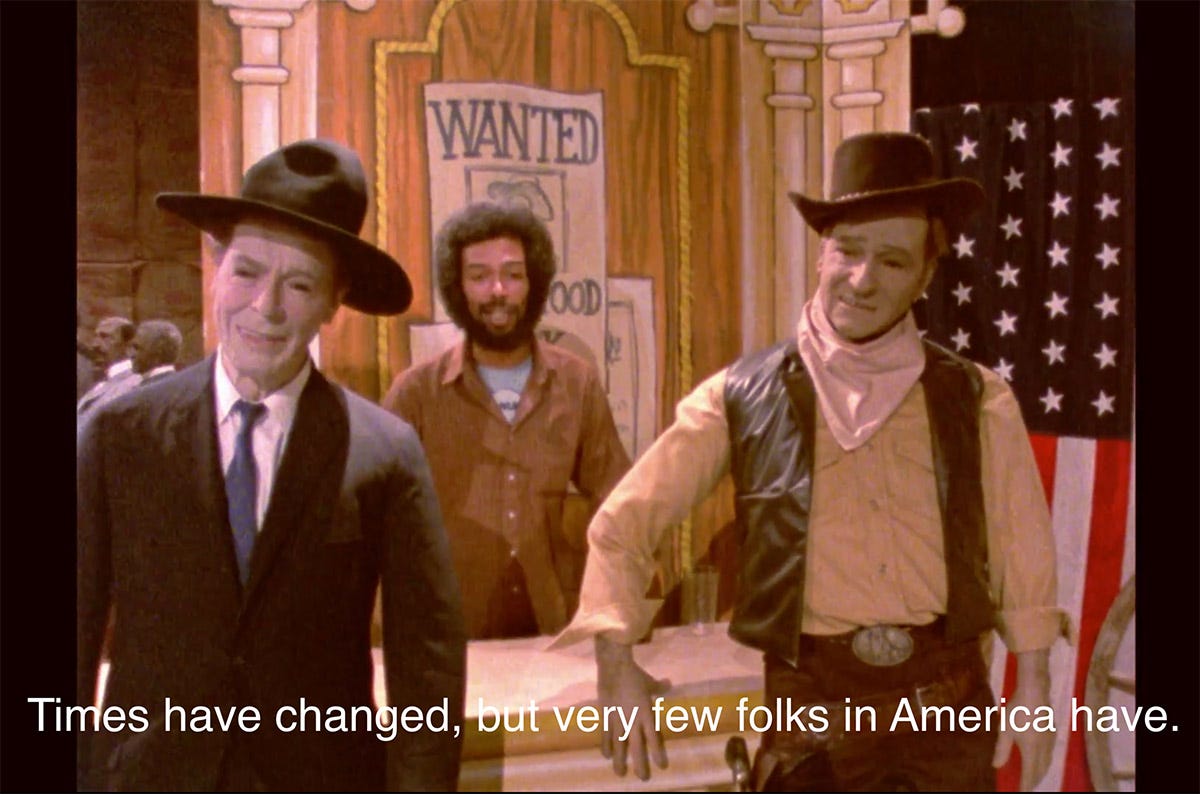 Speaking to a live audience or directly to the camera, Scott-Heron shares his experiences living in various American cities. In a spoken-word version of his song "Whitey On The Moon," he questions why more money is spent on space travel than solving poverty for people of colour. Strolling through low income neighbourhoods and in front of the White House with a boombox on his shoulder, he becomes a pied piper of the people, getting head nods at his words.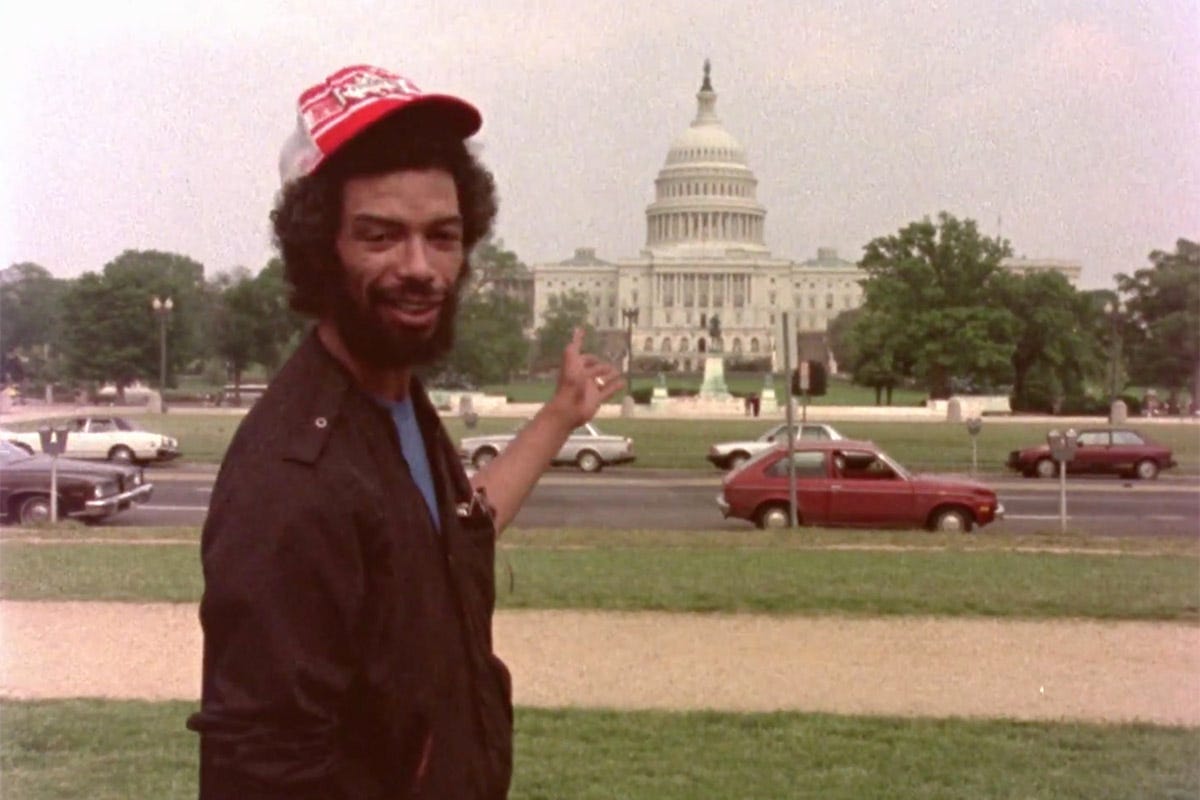 The other scenes that make up the majority of Black Wax show Scott-Heron performing onstage with an incredible band, which includes a swinging horn section, flautist, two drummers, and bassist Robert Gordon, who stands out with his sparkly shirts and popping solos. Scott-Heron aimed his ire at President "Ray Gun," but the compassionate lyrics of "Alien (Hold On To Your Dreams)" sadly remain as relevant as ever.
Q&A: Katy Henriksen
Katy Henriksen is the host of the podcast Sound Off. The show features interviews about "music that challenges the status quo—hybrid sounds that fall through the cracks because they aren't easily labeled." Katy also runs a non-profit called Trillium Salon Series, which "reimagines the live music experience for classical, new music and experimental sounds" and works in PR for New Amsterdam Records. In this excerpt from our interview, Katy offers one tip for a music journalist starting out right now.
Value yourself. Don't keep doing it for free. I'm so stubbornly independent and value DIY, but at some point I had to pay rent and get food on the table. There are situations where it makes sense to do something for free, but use that as a launching pad or because of the great relationship with the editor. Seek those relationships out. Listen, listen, listen and then listen some more. Deep listening is everything. Figure out how to have a conversation with an artist, not just an interview.
Read the full interview with Katy.
Podcasts!
Did You Know?
Where We Go One...
Q&A: Jamie Wilde
Jamie Wilde is a young Dundee-based music journalist. He's worked with The Skinny, Notion, and NME, and has just finished his dissertation at the University of Glasgow. The dissertation's guiding question was: "How inclusive is Glasgow's underground music scene for female creators?" In this excerpt from our interview, Jamie narrates the goals of the project.
By raising awareness of the extent of gender inequalities specifically within Glasgow as a locality, I wanted to create a piece of material that could be of value to those working within the scene at present. By highlighting an array of barriers, gaps and opportunities, I hoped that the piece of work had the potential to contribute effectively to the state of inclusivity for female creators within Glasgow's underground scene.
What was the most surprising thing that you found in your research?
Perhaps what was most surprising to me whilst conducting this research was just how prevalent gender inequalities remain within the music industries and society at large. It's hard to believe that we're now in 2020 and gender pay gaps are still an issue – why should men be paid more than women for doing the same job? It's morally wrong on a number of levels and ultimately shows that there is still a lot of work to be done before men and women can work together on an equal playing field in any industry.
Read the full interview with Jamie.
Bits, Bobs
Hey, Thanks For This Newsletter! How Can I Support This Thing?
Here are three easy ways you can support the newsletter:
What sort of perks are there for ongoing supporters?
Insider Extra - An additional e-mail from me each week, usually featuring job listings, freelance calls, and more
How To Pitch Database - Access to a database with contact information and pitching info for hundreds of publications
Reading Recommendations - Access to a resource page collecting great pieces of music journalism, sourced from great music journalists
Advice - Access to a resource page devoted to collecting advice from journalists and editors on how to excel at music journalism
Interviews - Access to the hundreds of interviews that have appeared in the newsletter, with writers and editors from Pitchfork, Rolling Stone, the Guardian, and more
The Closing Credits
Thanks for reading! Full disclosure: My day job is at uDiscover Music, a branded content online magazine owned by Universal Music. This newsletter is not affiliated or sponsored in any way by Universal, and any links that relate to the work of my department will be clearly marked. Feel free to reach out to me via email at music.journalism.insider@gmail.com. On Twitter, it's @JournalismMusic. Until next time…